Engine Mount Electric Trolling Motors Saltwater for Outboards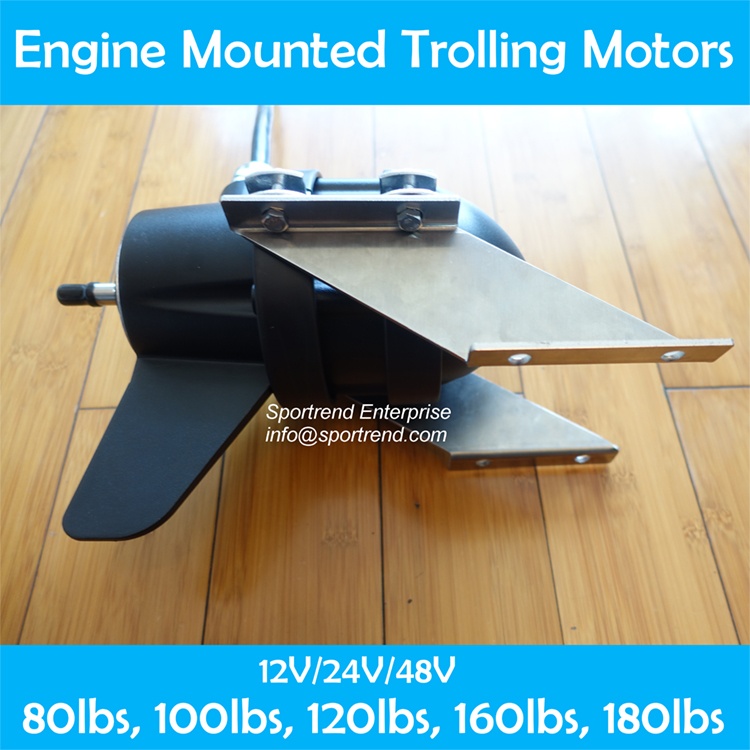 Our Navigator Engine Mount Saltwater Trolling Motors can turn your recreational runabout into a bona fide
fishing machine without adding a motor to your deck.
You get great electric motor performance when it's time to stow the ski's and wakeboard and pull out the rods and reels.
The speed is controlled by an corded remote that can be handheld or mounted in your boat.
It offers infinitely variable speed in forward and reverse. The motor can be steered using your boat's steering wheel or outboard tiller.
Thrust Power: 80LBS 12V(3HP), 100LBS 24V/48V (4HP), 120LBS 24V/48V (5HP), 160LBS 24V/48V (7HP), 180LBS 48V (9HP)
Used for boats weight even up to 1,000kgs-4,000kgs.
Motor Description:
* Long life & Easy Maintenance: Brushless motor's life is improved over 5 times longer than the brush motor, so maintenance is much more simple.
* High Efficiency & Energy Saving: Significantly higher efficiency brushless motor, +85% higher efficient and +30%-60% energy-saving rate than the brush motor.
* Much higher torque (thrust power) values at lower battery currents.
* Bigger Thrust Power: 80lbs 12V, 100lbs 24V/48V, 120lbs 24V/48V, 160lbs 24V/48V, 180lbs 48V.
* Stepless speed control: Electronic commutation by electronic circuits for stepless speed control (forward & reverse).
* Lower voltage protection function for battery life.
* Overload protection function.
* High temperature protection function.
* Reliable new electric wire connector system.
* Improved stronger mounting bracket system.
* Stainless-steel parts & Martyr anode for salt water use.
* Light weight: 20% lighter weight than the brush motor.
* Low noise: Less than 55db noise.
* CE / RoHS standards.
Our quality, delivery and services are guaranteed for you!
Please contact us for more details.
Sportrend Enterprise
-professional supplier of electric trolling motors in China